Canada's teams for the international culinary contests are heavy on Quebec talent, and they'll be cooking up a storm in France this weekend.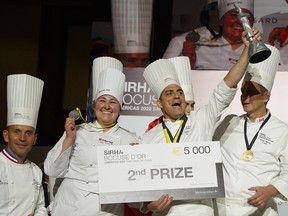 Postmedia may earn an affiliate commission from purchases made through our links on this page.
Article content
I'm sure I'm not the only person who brings my own knives and cutting boards (and coffee gear, and sometimes a few pots) to a chalet I'm renting for a weekend. I like to have my own tools when every meal counts. But when the Canadian teams recently flew to Lyon, France to prepare for the Bocuse d'Or and World Pastry Cup finals, they carried a lot more baggage. Twenty-five crates and more than 1,000 pounds of equipment, to be exact.
Article content
That's a lot of peelers.
Article content
Founded by chef Paul Bocuse in 1987 and chef Gabriel Paillasson and Valrhona in 1989, respectively, and known around the world for exacting standards and artistic flair, the two haute-gastronomie contests are made up of several demanding challenges to be completed in strict time frames (5 1/2 hours for the Bocuse d'Or, 10 hours for the World Pastry Cup), with international teams competing over the course of two days in each of the back-to-back events. The Canadian World Pastry Cup team is scheduled to compete on Saturday, Jan. 21 (Day 2) and our Bocuse d'Or team is slotted for Sunday, Jan. 22 (Day 1).
Semifinals take place regionally in the lead-up to the finals, which are held every two years. The challenges change with each edition, but high standards are a constant. Canada has competed in the Bocuse d'Or every year since the beginning, and won silver at the July 2022 Americas semifinals in Chile; we haven't participated in the Pastry Cup since 2008.
Article content
In addition to pots, pans, food processors, blenders, knives and, yes, peelers brought from their Canadian headquarters at the Institut de tourisme et d'hôtellerie du Québec (ITHQ), there are dried herbs, flowers, nuts and fruit from Canada's boreal forest. The goal? To provide a true north flavour for the savoury plates, platters, garnishes, stews and desserts they'll be creating.
And to win gold, of course.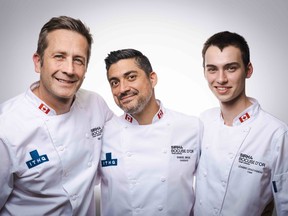 The international organizing committee shares the challenges with all teams in advance. By December, the participating teams — 24 in the Bocuse d'Or and 18 in the World Pastry Cup — must share recipes, pictures and drawings of what they will prepare for the finals, with no changes possible afterward.
The all-Montreal Bocuse d'Or chefs and all-Quebec World Pastry Cup team have had access to a special kitchen at the ITHQ since 2020. The kitchen, funded by Canada Economic Development for Quebec Regions, was built to the exact specifications of the one in Lyon. An array of other sponsors supports the teams' efforts, including the ITHQ, the Office montréalais de la gastronomie, Tourism Canada, Air Canada, the Association Restauration Québec and Garland, which supplies all of the kitchen's equipment.
Article content
Thomas Delannoy — president of the teams' home organization, Chefs Canada — likens the experience to the Olympics.
A week before the competition, Delannoy was in Lyon, picking up bags of sugar, trays and rolling carts, and generally doing his utmost to ensure the Canadian teams' participation goes off without a hitch.
"They need time and freedom so they can focus on the sport itself: the cooking," he told the Montreal Gazette while driving around Lyon doing last-minute errands. "If we don't have everything ready for them, it would be like training for Olympic swimming in a bathtub."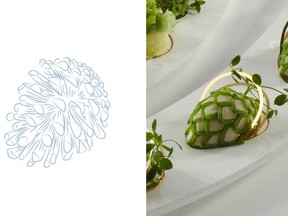 The Bocuse d'Or team is led by chef Samuel Sirois and coach Gilles Herzog (both instructors at the ITHQ), with young sous-chef Léandre Legault-Vigneau and team president Alvin Leung. Competing in the World Pastry Cup team are Patrick Bouilly on sugar, Jacob Pelletier on chocolate, ice carver Ross Baisas and coach Daniel Garcia. They have no easy task.
Article content
The chefs on each team need to wow two juries — one for tasting and one assessing adherence to the rules and regulations, the teams' approach to kitchen professionalism, and even how they manage the pressure in these intense events. (Sirois says he does meditation sessions twice daily alongside a steady running practice to stay on an even keel.)
Beyond the need for preparation months in advance and having to execute the cooking in front of a live — and at times boisterous — audience in the given time frame, there's another twist.
The first Bocuse d'Or theme this year, designed to encourage healthy eating, is called Feed the Kids. The chefs have a very specific mandate: to create a kid-friendly appetizer, main and dessert.
Article content
And it's all based on squash.
While the chefs can choose which type of squash they use for each dish, they need to meet other guidelines: the appetizer must be vegan, and there has to be one visible egg in the main dish. Each judge will be paired with a young, non-voting eater — presumably not too picky — to taste the food.
"Texture is important," said Sirois, who has two young daughters he loves cooking for. "I can't reveal what we're going to do, but it's going to be based on a story, and the colours on the plate are really important."
The second challenge is to create a platter including monkfish and scallops, with an obligatory vegan garnish. Sirois is enthusiastic about the Canadian ingredients he's bringing to the table, keeping Canada's food biodiversity at the heart of the creations. Details remain secret until the moment itself, but foraged boreal herbs and mushrooms, organic maple syrup and cranberries will be showcased, he says.
Article content
"There's an infinite amount to learn about all the varieties of fruits and vegetables we used to have and don't know about anymore," Sirois added. "This isn't just a trend — it's crucial."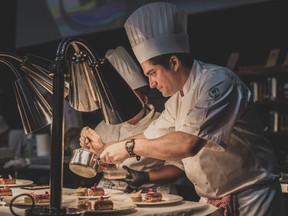 While rising costs, workplace aggression, pay issues and the relevance of fine dining dominate headlines, the competitions' umbrella organization is committed to maintaining the significance of both events, beyond the importance of healthy eating for children. The World Pastry Cup's creations are dictated by the theme of climate change and reducing environmental impact (excess luggage notwithstanding).
Translating the idea of climate change into a sugary reality in a very short period of time has preoccupied the national sweet team, which was just put together in the fall.
Article content
After a chocolate sculpture collapsed between their worktable and the podium at the July 2022 Americas semifinals, the Canadian team placed too low to qualify for the international finals. The team was crushed, but all was not lost.
"The jury saw the huge potential of our Canadian team," said Chefs Canada's Delannoy. "They surprised us three months later … when they invoked a wild card and invited our team to participate. One of the original members couldn't be there, so we put a new team together in October. That gave them only a few months to prepare."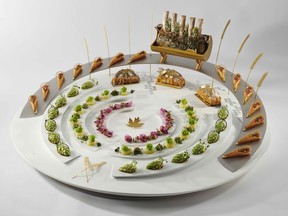 The Pastry Cup team might be late to the party, but its members are no strangers to competitions. Bouilly is a Paris-trained professional now teaching at the ITHQ; Pelletier, former owner of Edmonton's famed Duchess Bake Shop and newly arrived in the province, got the competition bug while studying to be a chef; and Baisas is an ice sculptor who has won multiple gold medals, and is a culinary artist at the Casino de Montréal.
Article content
In the competitors' time of need, enthusiastic pâtissiers from across the country — including Montreal's beloved Patrice Demers — formed an advisory board to support the team as it created numerous recipes for the tastings. It's quite the dessert menu, including three Valrhona chocolate desserts (Valrhona is one of numerous sponsors whose goods are showcased), three frozen desserts (with sponsored fruit purée) and 26 frozen one-bite lollipops, in addition to 10 restaurant-style desserts. If that weren't enough, the team must also create three artistic pieces with very specific dimensions: one out of chocolate, one of sugar and one ice sculpture.
Blackcurrants, foraged hazelnuts, birch syrup — "an incredible alternative to maple syrup" — and western Canadian sour cherries will be essential to their confections, says chocolate master Pelletier.
Article content
"Our inspiration is from the boreal forest, and we looked to the flavours you can find there. We've thought about every step of the process, using forms and shapes from nature," he said. "We've been conscious, too, in the materials we've been using, down to our display platter, made of 100 per cent recycled ocean plastic.
"We've come up with something that's uniquely Canadian. Hopefully the judges will be able to taste that right away."