23 January 2023, 16:40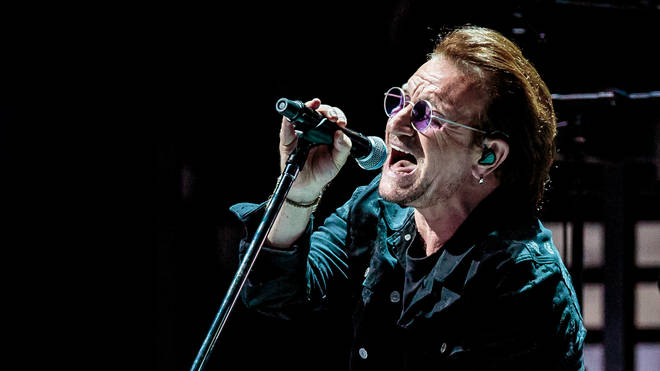 The U2 frontman has admitted that it can be "tricky" being in a long-standing band, but he's grateful they always come back together.
Bono has said U2 split up "all the time," but seem to work things out.
The U2 frontman has talked about being part of the legendary band – completed by 'The Edge' (Dave Evans), Adam Clayton and Larry Mullen Jr. – fall out but always "get back together".
Speaking on the SmartLess podcast, Bono said: "I'm amazed we're still going.
"Being in a band is tricky. The older you get, it gets even trickier. Because when you grow up together, you're used to taking bits out of each other.
"You're as good as the arguments you get, but at a certain point, when people are doing well, the male loves to be the lord of his own domain, you know?"
"It's rough," the One singer continued. "And you can just imagine why people say, 'Ah, f*** this, I'm outta here.'
"I mean, I really genuinely expect that and the band breaks up all the time. It's the truth.
"Then we get back together and I'm grateful we do."
READ MORE: U2's Bono and The Edge perform in Ukrainian metro turned bomb shelter
Meanwhile, the Irish rockers recently announced their plans to release Songs of Surrender, including 40 of their re-imagined and re-recorded greatest hits which is set to be released on 17th March.
Alongside the announcement, The Edge wrote a letter, which teased that the band were moving in a "new direction".
He explained: "Music allows you to time travel and so we started to imagine what it would be like to bring these songs back with us to the present day and give them the benefit or otherwise, of a 21st century re-imagining. What started as an experiment quickly became a personal obsession as so many early U2 songs yielded to a new interpretation.
"Intimacy replaced post-punk urgency. New keys. New chords. New tempos and new lyrics arrived. It turns out that great song is kind of indestructible. Once we surrendered our reverence for the original version each song started to open up to a new authentic voice of this time, of the people we are, and particularly the singer Bono has become.
"I hope you like our new direction."
The band have since shared the tracklisting to the album, which sees each bandmember selecting their favourite reworked track.
See the deluxe tracklisting here:
CD1 – THE EDGE
1 ONE
2 WHERE THE STREETS HAVE NO NAME
3 STORIES FOR BOYS
4 11 O'CLOCK TICK TOCK
5 OUT OF CONTROL
6 BEAUTIFUL DAY
7 BAD
8 EVERY BREAKING WAVE
9 WALK ON (UKRAINE)
10 PRIDE (IN THE NAME OF LOVE)
CD2 – LARRY
1 WHO'S GONNA RIDE YOUR WILD HORSES
2 GET OUT OF YOUR OWN WAY
3 STUCK IN A MOMENT YOU CAN'T GET OUT OF
4 RED HILL MINING TOWN
5 ORDINARY LOVE
6 SOMETIMES YOU CAN'T MAKE IT ON YOUR OWN
7 INVISIBLE
8 DIRTY DAY
9 THE MIRACLE (OF JOEY RAMONE)
10 CITY OF BLINDING LIGHTS
CD3 – ADAM
1 VERTIGO
2 I STILL HAVEN'T FOUND WHAT I'M LOOKING FOR
3 ELECTRICAL STORM
4 THE FLY
5 IF GOD WILL SEND HIS ANGELS
6 DESIRE
7 UNTIL THE END OF THE WORLD
8 SONG FOR SOMEONE
9 ALL I WANT IS YOU
10 PEACE ON EARTH
CD4 – BONO
1 WITH OR WITHOUT YOU
2 STAY (FARAWAY, SO CLOSE!)
3 SUNDAY BLOODY SUNDAY
4 LIGHTS OF HOME
5 CEDARWOOD ROAD
6 I WILL FOLLOW
7 TWO HEARTS BEAT AS ONE
8 MIRACLE DRUG
9 THE LITTLE THINGS THAT GIVE YOU AWAY
10 ''40''
The band have also began to tease some of the reworked tracks already, such as Pride (In The Name Of Love), which you can watch the lyric video for below: