CIC Holdings' subsidiary Link Natural is reviving ancient beauty secrets through modern science with launch of a range of natural beauty care under the brand "Earth Essence".
The brand promises natural nourishment of skin and hair with the use of standardised natural actives of medicinal herbs.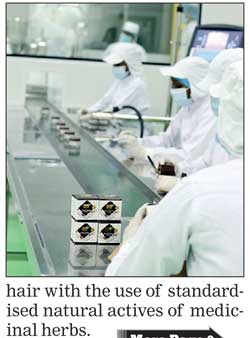 Earth Essence has an extensive range of products, providing care from head-to-toe and facilitates self-care at home. For example, the Earth Essence herbal face care range consists of all products one would need to pamper themselves with a facial or a clean-up in the comfort of their home.
The brand believes in the ethos that good health is the cornerstone of any society and beauty and wellness is an outer reflection of one's inner health. Earth Essence seeks to help the women of today face life with confidence and strength by enhancing their natural beauty, which the brand believes is unique to each individual.
Link Natural Director R&D Dr. T.M.S.G. Tennakoon said that with the proven expertise and dedication of over four decades of improving the health and wellness in Sri Lanka, Earth Essence is a glowing addition to the Link Natural range.
"I believe we are now offering a complete range which provides total care, sealed with the stamp of safety by Link Natural, along with the efficacy and uniqueness of the other products from the company."
To develop the proprietary formulations for the Earth Essence range, the group of experts at the state-of-the art R&D Centre of the company, uses hundreds of medicinal herbs, often used in ancient Ayurveda and 'Deshiya Chikithsa' practices which are known for the maintenance of inner and outer beauty which were also used by royalty in ancient times. These natural ingredients are sourced either from their own plantations or through the extensive out-grower model operated by Link Natural.
Launches range of natural beauty care products under "Earth Essence" brand

Says ancient ayurvedic recipes now converted through modern science to usable forms with all ingredients being medicinal herbs

Product development done locally at Link R&D Centre and factory in Dompe
Link Natural, an icon in herbal products in Sri Lanka is a pioneer in fusing ancient Ayurveda with modern science and technology to bring superior wellness products to the people of Sri Lanka and overseas.
Known as a highly research-based company with many clinical trials and publications to back the claims of their products, Link Natural, for many years is home to trusted and time-tested products such as Samahan, Sudantha, Swastha Amurtha, Swastha Triphala, Musclegard, SP Balm, Kesha and many more, that have provided consumers with holistic wellness for many a generation.