A popular political souvenir in Florida currently is a range of merchandise touting the services of a nonexistent travel company named DeSantis Airlines.
T-shirts, drinks glasses and car decals alike bear the motto "Bringing the border to you", a mocking commemoration of the time last year when Ron DeSantis, the state's Republican governor, baited a load of mostly Venezuelan asylum seekers on to two chartered planes in Texas with false promises of jobs and housing in Boston, then promptly dumped them in Martha's Vineyard.
The stunt, paid for by Florida taxpayers, was branded cruel and heartless by analysts, political opponents and immigration advocates, and lauded by DeSantis's supporters as another successful "owning" of liberals.
But beyond the politically charged rhetoric, the episode was further proof that immigration, and the demonizing of immigrants, are top priorities for DeSantis while he prepares his likely run at the Republican 2024 presidential nomination.
That might seem a curiosity, given that his state is so reliant on immigrant labor, and that almost 3 million workers, comprising more than a quarter of Florida's entire workforce, were born overseas, according to the American Immigration Council. They fill jobs vital to Florida's key dollar-generating industries including agriculture, construction, tourism and transportation.
Yet to observers of DeSantis's "anti-woke" world, where liberalism is the enemy, and hard-right ideology eclipses all else, it comes as little surprise.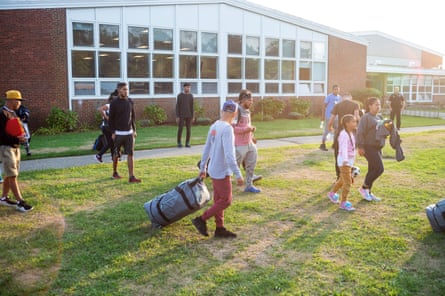 "It's a page out of Donald Trump's playbook, a play to elevate his national profile by using this issue to mobilize the base and get his soundbites on Fox News," said Vanessa Cárdenas, executive director of the immigrant advocacy organization America's Voice.
"He is using immigration as a tool to create anger, a very motivating emotion, and elevate his national profile. It's about amplifying the narratives of chaos, of fear and, really, hate, which is damaging not just to the politics of our country, but also to the policy advancement of the issue."
Advocates in Florida are angered by the governor's progressively hardline stance in a catalog of legislative measures that might not have drawn the same headline publicity as the Massachusetts flights, yet signal the priorities and policies he would probably pursue from the White House.
DeSantis has a long history of picking fights with the Biden administration over the southern border and pursuing legal challenges to federal immigration policies.
Closer to home, he and his willing Republican-dominated legislature passed a law in 2019 banning perceived sanctuary cities he believed were shielding migrants from national immigration laws. That case is still tied up in the appeals court after a federal judge ruled parts of it unconstitutional.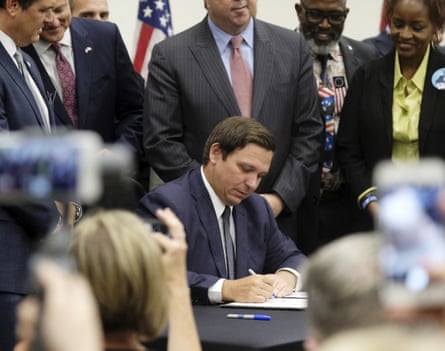 Last year, DeSantis signed a bill mandating law enforcement to fully implement federal policies and blocking local authorities from contracting with companies that have transported undocumented aliens.
But in the weeks since his landslide re-election in November, Florida's governor has really cut loose on immigration, expanding his migrant removal program, then unveiling measures billed as his response to "Biden's border crisis" that many consider his most extreme package yet.
One part, removing in-state university tuition rates for undocumented students, put him at odds with his own party's lieutenant governor, Jeanette Nuñez, who sponsored the 2014 bill introducing the tuition discounts, and his Republican predecessor Rick Scott who signed it. While Scott has said he would do so again, the ever-loyal Nuñez has reversed her position.
Florida's business leaders are also concerned by a new requirement to use the internet-based E-Verify employment checking system to deny jobs to those who are undocumented, while those without papers would be denied ID cards and driver's licenses.
Another alarming strand, flagged this week by the New York Times, would require hospitals to establish and report to the state a patient's immigration status.
Tessa Petit, executive director of the Florida Immigrant Coalition, is worried by the proposed felony criminalization and lengthy prison sentences for anyone who "harbors or transports" an undocumented alien knowingly. She said it could affect parents whose child invites an undocumented classmate to their birthday party, or a carer who took an undocumented senior to a medical appointment.
"It's government overreach. He's using a facade of protection for government overreach and fascism, controlling every part of everybody's life," she said.
The effect of DeSantis's immigration crackdown has been chilling. Rubén Ortiz, a pastor in DeLand whose congregation is almost exclusively from South and Central America, Mexico and the Caribbean, says they are "terrified".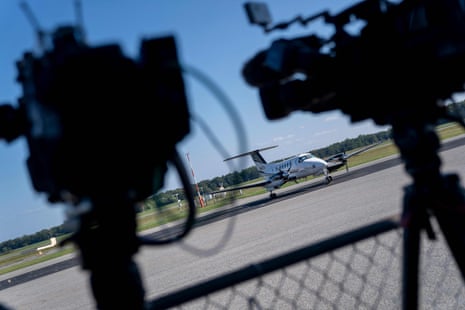 "I'm getting calls saying: 'Pastor, can you find someone to take care of our kids if we are deported?' Others are looking to return to their own country," he said.
"They can call us if they have any incident with the police, a traffic stop or whatever, and now they say: 'Will the future be worse?' It's not only going to school with the kids, it's if we get sick, and it's mandatory for hospitals to verify legal status.
"People are basically living in the shadows. These people are just looking for a better life, a better place to live. They already had a horrible journey to the US, they're established and flourishing right now. This is repeating their nightmare and affecting their ability to dream."
The economic impact of DeSantis's policies is also a concern for Cárdenas, of America's Voice.
"Immigrants contribute like $600m in taxes at the state and local level, 36% of businesses are immigrant owned, so once the business community starts thinking about the implications of what DeSantis is proposing, it's going to be eye-opening," she said.
"It's really out of step with our economic needs, which is a top issue for every voter."
She pointed to the rejection of Trump-style immigration extremism in the midterms as a warning for DeSantis. "The majority of the electorate supports immigration and a progressive vision when it comes to policy. They're Americans who recognize the important place immigrants play in our economy, they want us to have a compassionate system, and they really value our heritage as a nation of immigrants.
"It's such a disservice to the issues Americans care about when we have these kinds of leaders who are amplifying again not just hateful rhetoric that hurts immigrants, but also is not in the best interest of our nation."
Petit, meanwhile, is certain DeSantis will try to project his agenda on to the national stage, noting that he won re-election as governor by 19 points last year and that his Republican legislative supermajority in Florida has left him in effect untouchable.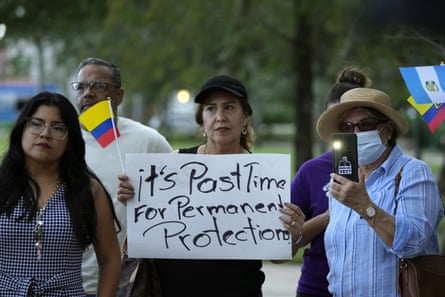 "He's gotten to the point where there's a part of his form of governance that is showing up because he has become too empowered. He feels unstoppable," she said.
"It's what his governance could look like in 2024 for the United States, should he get elected, so people need to pay attention to what he's doing."
DeSantis, who has previously sent Florida law enforcement officials to help patrol the US southern border with Mexico, continues to paint the immigration debate as a national crisis. He says the nearly 11,000 migrants repatriated from his state since last August are a consequence of the Biden administration "losing control" of the country's borders.
"As Biden's border crisis continues unabated, my administration is working hard to protect our communities and businesses from the many threats posed by illegal immigration," he said in a statement announcing his latest crackdown in February.
Petit isn't buying it, and sees DeSantis's actions as a performance designed to capture Trump's hardline base for his own presidential ambitions.
"I think he realized that when Trump was president people wanted to see a strong presidency, and the fact Trump was a bully got everybody excited," she said.
"He wants to be a bully, except the danger is he's much more subtle. He's doing the same things in a much more subtle way and using immigrants as pawns to advance his popularity."