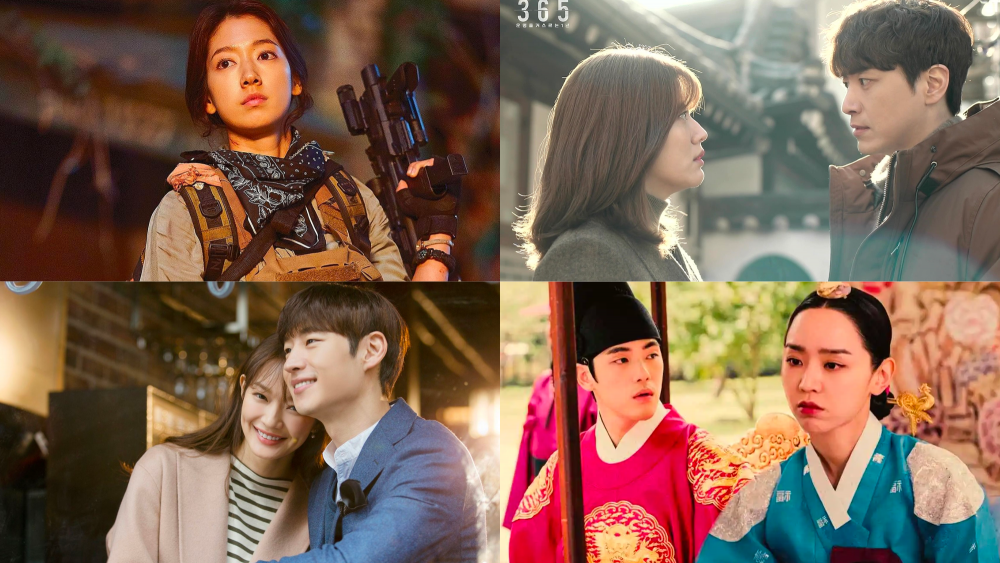 The notion of time travel sparks fascination, enchanting us with the mystery of its various interpretations. Fortunately for us, K-Dramas also explore this thrilling concept, adding their unique creative flair to the mix.
Embark on a journey across timelines as we delve into 8 K-Dramas that ingeniously incorporate time-traveling concepts!
Mr. Queen
Time travel is a versatile concept that can be explored in countless intriguing ways. Imagine a contemporary protagonist suddenly waking up as a Queen in a bygone era – this isn't just a tale of body-swapping but also a clever spin on time travel. This highly entertaining drama promises a delightful binge-watching experience, blending humor, history, and elements of the fantastical.
Starring: Shin Hye-sun and Kim Jung-Hyun
365: Repeat the Year ,
Going with the traditional definition of time traveling, a group of people was given the chance to travel back in time for a year. It may sound 'typical,' but see how the web of relations these groups of people have with each other without realizing it. It is a highly recommended drama. 
Starring: Lee Joon-hyuk, Nam Ji-hyun, Kim Ji-soo and Yang Dong-geun
Tomorrow, with You
This drama is a symphony of beauty and elegance, with time travel elegantly intertwined into its narrative fabric. The lead couple, both weary and sophisticated in matters of love, succumb to a profound connection that truly captivates the viewer. Rest assured, this is not your run-of-the-mill time-travel romance. To fully appreciate the unique elements of the story, you simply must watch it – a hint of mystery, a promise of intrigue, and a captivating love story all in one. Trust me on this, it's well worth the watch!
Starring: Shin Min-a and Lee Je-hoon
Queen In Hyun's Man (aka Queen and I)
This drama masterfully depicts the ripple effects of time travel. The male lead, consistently modifying history by journeying back and forth between past and present, causes a constant shift in the narrative. This shift significantly impacts the female lead, an actress embodying the very historical events he's altering. Consequently, her script remains in a constant state of flux, reflecting the alterations in history. This intriguing dynamic brings a refreshing and exciting layer to the classic time-travel genre.
Starring: Ji Hyun-woo and Yoo In-na
The Call
A film instead of a drama, but this one has to be included! Not sure if this is considered time traveling since no one actually traveled, but their connection did change each other's life in their own timeline. Two girls living in the same house but at different times (1999 and 2019) connected through a phone, making changes in each other's life. 
Note: if you like this concept but want a more romantic version of it, you should watch DITTO — yes, it's the movie with the same name and concept as NewJeans' Ditto. 
 Starring: Park Shin-hye and Jeon Jong-seo
Signal
Similar to the previous one, instead of time traveling, it's time convergence. But it has the same effects as time traveling, so, same difference! Watch how both police forces in the future and past come together in solving the same case. 
Starring: Lee Je-hoon, Kim Hye-soo, and Cho Jin-woong
Rooftop Prince
While this drama was essentially a romance, it was centered on four people traveling in time back 300 years to solve a mystery. It's a fun and enjoyable drama – taking us back in time too, literally with being in the Joseon dynasty, and also because this drama is 11 years old now. 
Starring: Park Yoo-chun, Han Ji-min, Jeong Yu-mi, Lee Tae-sung, Lee Tae-ri, Jung Suk-won, and Choi Woo-shik
Sisyphus the Myth
It looks like a typical one-time time travel story until you realize that there are more loops and maybe juxtapositions during the story. It's not as complicated as it sounds, but it does require some focus and understanding. 
Starring: Cho Seung-woo and Park Shin-hye