World War II restrictions cut deep into every American pantry as federal officials announced that sliced bread would be rationed on this day in history, Jan. 18, 1943. 
"I should like to let you know how important sliced bread is to the morale and saneness of a household," distraught mother Sue Forrester of Fairfield, Connecticut, claiming to speak on behalf of America's housewives, lamented in a New York Times letter to the editor.
Wartime rationing had already caused severe restrictions on the nation's household food supply. 
ON THIS DAY IN HISTORY, JAN. 17 1706, BENJAMIN FRANKLIN, FOUNDING FATHER, BORN IN BOSTON
Basic resources were devoted in ever-growing volume to the war effort in 1943, as the tide of battle turned and the U.S. and its Allies went on the offensive across the vast expanse of two oceans. 
Bread rationing marked the depths of sacrifices on the home front.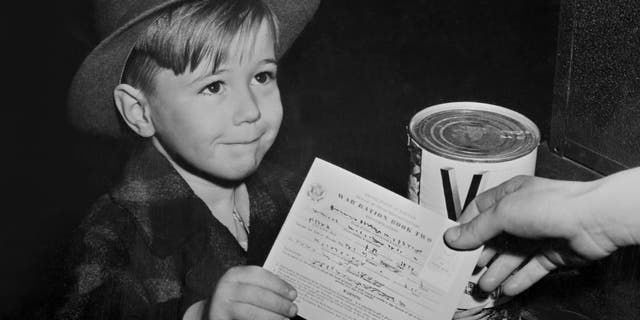 "World War II put a heavy burden on U.S. supplies of basic materials like food, shoes, metal, paper and rubber," reports the National World War II Museum.
The federal government issued ration cards to control resources. 
Every American — even babies — was given an allowed number of "points" and had to use them, along with cash, to purchase restricted items. 
"I should like to let you know how important sliced bread is to the morale and saneness of a household." — Sue Forrester, 1943
It took a huge nationwide effort of Americans pitching in together for the war effort, while watching out for the natural instinct to abuse the program and horde food and other necessities. 
"By the end of the war, about 5,600 local rationing boards staffed by over 100,000 citizen volunteers were administering the program," according to the National World War II Museum. 
LOTTERY IS 'PREDATORY' TOWARD THE POOR: EXPERT DELIVERS SCATHING INDICTMENT OF GAME HE CALLS 'A LIE, A CON'
The Roosevelt administration anticipated the coming need to conserve resources for the future war effort months before the attack on Pearl Harbor. 
It issued Executive Order 8875 to create the Office of Price Administration (OPA) in August 1941. 
"The OPA rationed automobiles, tires, gasoline, fuel oil, coal, firewood, nylon, silk and shoes," reports the National Park Service.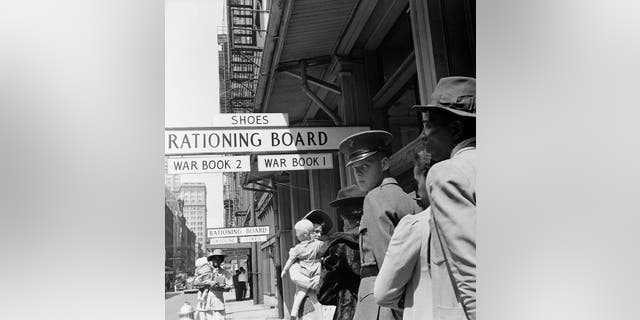 "Americans used their ration cards and stamps to take their meager share of household staples including meat, dairy, coffee, dried fruits, jams, jellies, lard, shortening and oils."
Fattened Americans live today in a world in which every imaginable culinary delight is available for home delivery by a few clicks of an iPhone. 
OLDEST LIVING PEARL HARBOR SURVIVOR CELEBRATES 105TH BIRTDAY AT NATIONAL WWII MUSEUM
So they'd be shocked to see how deeply rationing cut into the access to basic food and household necessities. 
Silverware grew scarce as manufacturers turned butter knives into bayonets. 
Canned goods disappeared from store shelves as stable, preserved food nourished GIs and starving civilians in war-torn parts of the world. 
Many Americans ate horse meat as pork and beef were sent overseas to feed the war effort.
Many Americans ate horse meat as pork and beef were sent overseas to feed the war effort.
Americans were encouraged to plant "victory gardens" to grow as much of their own food as possible. 
Tires were the first item rationed in January 1942, just weeks after the attack on Pearl Harbor. Sugar was the first food item rationed and remained scarce throughout the war.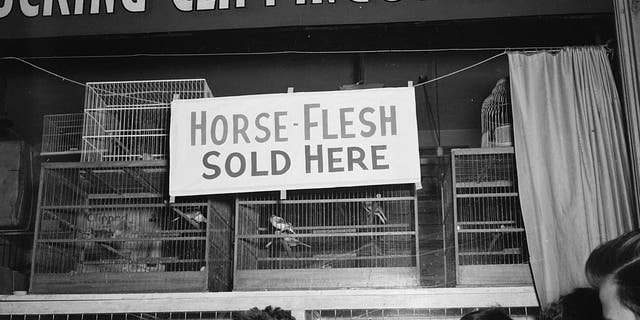 The decision to restrict bread "was extremely unpopular," author Lucas Reilly wrote in a 2019 piece on rationing for Mental Floss.
CLICK HERE TO GET THE FOX NEWS APP
"Nobody in the government apparently wanted to confess to having the idea. The ban was ordered by Food Administrator Claude R. Wickard, but the Office of Price Administration blamed the idea on the agricultural department, which blamed the baking industry."
Rationing had some success stories as Americans sought new sources of sustenance. 
D-DAY 78 YEARS LATER: HOW FDR'S POWERFUL PRAYER UNITED AMERICANS
Kraft sold about 50 million boxes of its inexpensive macaroni and cheese during the war, fueling a national obsession that still exists today.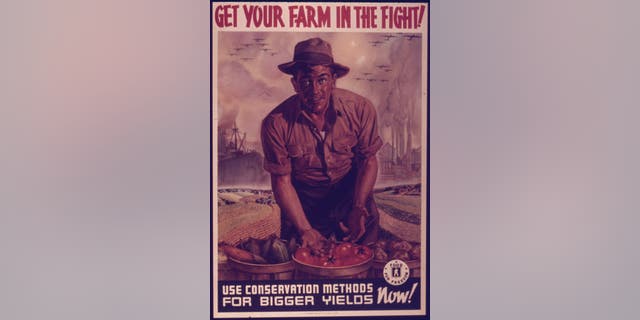 Access to goods on the home front reflected fortunes on the battlefront. 
"As World War II came to a close in 1945, so did the government's rationing program," writes the National World War II Museum. 
CLICK HERE TO SIGN UP FOR OUR LIFESTYLE NEWSLETTER
"By the end of that year, sugar was the only commodity still being rationed. That restriction finally ended in June 1947. Plenty of other goods remained in short supply for months after the war, thanks to years of pent-up demand," the museum also notes.
"Before long, however, manufacturers had caught up, and Americans could buy all the butter, cars and nylon hosiery they wanted."