Article content
Homeless Calgarian Brian Douglas Jensen was "angry at the world" when he smashed dozens of panes of glass on the city's iconic Peace Bridge, his lawyer told court Monday.
Article content
Defence counsel Adriano Iovinelli said Jensen has spent years living on the street and was frustrated at the fact the system hasn't done anything to assist him.
Article content
"He can't find housing, he can't find food on certain days … and he's walking on a $25-million structure built by the City of Calgary," Iovinelli told provincial court Judge Margaret Keelaghan.
"Imagine … being told there's no resources and then walking on a $25-million bridge," the lawyer said, adding he wasn't excusing Jensen's behaviour, just explaining it.
"He was angry at the world, he was angry at the city, he was angry at his lifestyle, he was just angry."
Jensen, 59, pleaded guilty to a single charge of mischief causing damage to property for two separate incidents in which he vandalized the pedestrian bridge linking downtown Calgary and the community of Sunnyside.
Article content
The bridge, which opened in March, 2012, is the $24.5-million creation of Spanish architect Santiago Calatrava and is one of the city's favourite destinations.
Crown prosecutor Robert Marquette said Jensen first damaged the bridge last June 18, when he used a wooden pole, or dowel to smash a single pane, causing about $12,000 in damage.
Just over a month later, on July 24, Jensen returned to the same location and, armed with a hammer and rebar, smashed 70 additional panes of glass, Marquette told Keelaghan.
The prosecutor presented the judge with a restitution request from the city seeking $1,036,389.60 from the homeless man.
Article content
But Iovinelli said Jensen doesn't have the means to pay anything, noting that video of the July 24, incident shows his client not only smashing panes of glass, but tossing his few worldly goods from the shopping cart he pushed onto the bridge.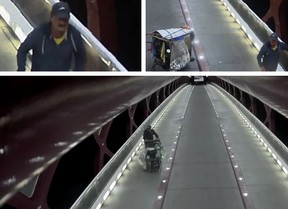 "My client doesn't have a nickel to his name," the lawyer said.
Marquette suggested Keelaghan hand Jensen, who has a lengthy prior record, the equivalent of a one-year jail term, noting he could not find similar pricey acts of vandalism which weren't committed for things such as insurance fraud, political statements or revenge.
But Iovinelli argued his client, who has spent six months in custody, which with enhanced credit amounts to a nine-month term, has done enough time behind bars.
Keelaghan will decide on Friday what sentence fits both the crime and the offender.
On Twitter: @KMartinCourts