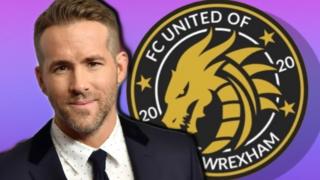 Getty / FC Unted of Wrexham
Hollywood movie star Ryan Reynolds has donated more than one thousand pounds to a children's football club in Wales.
Reynolds, who co-owns Wrexham AFC, donated the money to FC United of Wrexham, after the under-12s futsal team set up an online appeal to raise money for new kits.
Kayleigh Barton, who set up the appeal and whose 11-year-old son Keegan plays for the team, said: "I had an email saying that a Ryan had donated £600, and I just thought 'who's Ryan?'.
"I logged in and it said Ryan Reynolds …..I started shaking I just couldn't believe it."
The Detective Pikachu star, who took over at Wrexham AFC with fellow actor Rob McElhenney in November 2020, donated the £600 before adding another £1,000, saying "anything the kids may need".
The donation was a huge boost for Keegan whose dad died last September and playing football has helped him cope with the loss.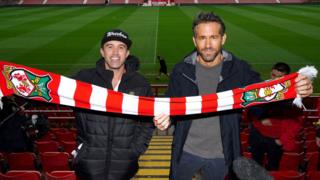 PA Media
Ryan Reynolds owns Wrexham AFC with fellow actor Rob McElhenney
After the donation and hearing about Keegan's story, Reynolds posted a message for the 11-year-old, saying: "I heard a little about your story and I wanted to say I'm really inspired by you, pal.
"I'm super excited by everything that's been happening in Wrexham and particularly by your team. And I can't wait to see you in the new uniform and I can't wait to meet you in person one of these days, Keegan.
"Sending you lots of love from New York."
Keegan responded to the message from the Hollywood star saying: "Hi Ryan, that video made my day. Thank you for all the donations and thank you for the kits and I'm looking forward to meeting you."