Driving along Highway 285 from the south towards Roswell through the New Mexico desert, travelers may be a little surprised to come across life-size cut-outs of an alien ship, little green men, and some locals trying to befriend them with pie. Coming into the city from any direction there is ample warning of the wacky, weird, and wonderful still to come.
And there's plenty still to come.
Roswell, in Chaves County, New Mexico, has fully embraced the "Roswell Incident" UFO brand with out-of-this-world museums, kitschy gift stores, and a number of roadside attractions. Whether coming in from the north, south, west, or east, visitors are greeted by signs decorated with spacecraft, and the universally recognized androgynous alien with the oversized head, large almond-shaped eyes, Voldemort nose, and long lanky arms.
Roswell was founded in 1871 by businessman Van C. Smith who named the town after his father, Roswell Smith. After a slow start, the town's growth and development took off when an aquifer was discovered in 1890 and continued with the arrival of the railroad in 1892.
Today Roswell is home to 50,000 residents and a booming tourist industry built around an unidentified flying object crashing in a nearby ranch in 1947.
It soon became the focus of the "flying saucer" craze of the 40s and 50s and since the 1970s, the city has cashed in on the controversy surrounding the alleged crash and subsequent military "cover-up".
It has been explored in books, TV shows, and films, culminating in the now-debunked footage "Alien Autopsy: Fact or Fiction" released in 1995. All the information about this intriguing story can be gleaned at the International Museum and Research Center on South Main Street – the first stop on our itinerary in the ultimate travel guide to Roswell, New Mexico.
Things To See And Do In Roswell
International Museum and Research Center, Roswell
Roswell International UFO Museum and Research Center
The International UFO Museum and Research Center was opened in 1992 with the aim of informing the public and presenting information objectively. The museum's exhibits include unexplained phenomena related to UFO research such as alleged abductions, crop circles, and of course, the Roswell Incident.
Related: 10 Places To Search For Aliens (Outside Of Area 51)
Their collection of materials and information related to the close encounter encourages people to question and make their own minds up about whether aliens really did crash-land nearby.
Was it a military cover-up? Or as the Air Force later claimed, part of Project Mogul – a top-secret weather balloon (constructed with a lot of Scotch tape and tin foil) — designed to monitor Soviet-era nuclear testing?
The truth is out there for those who want to believe.
Adults $7 Children (5-15) $4 Seniors, military or first responders $5
Open daily from 9 am – 5 pm
Roswell UFO Spacewalk and Gallery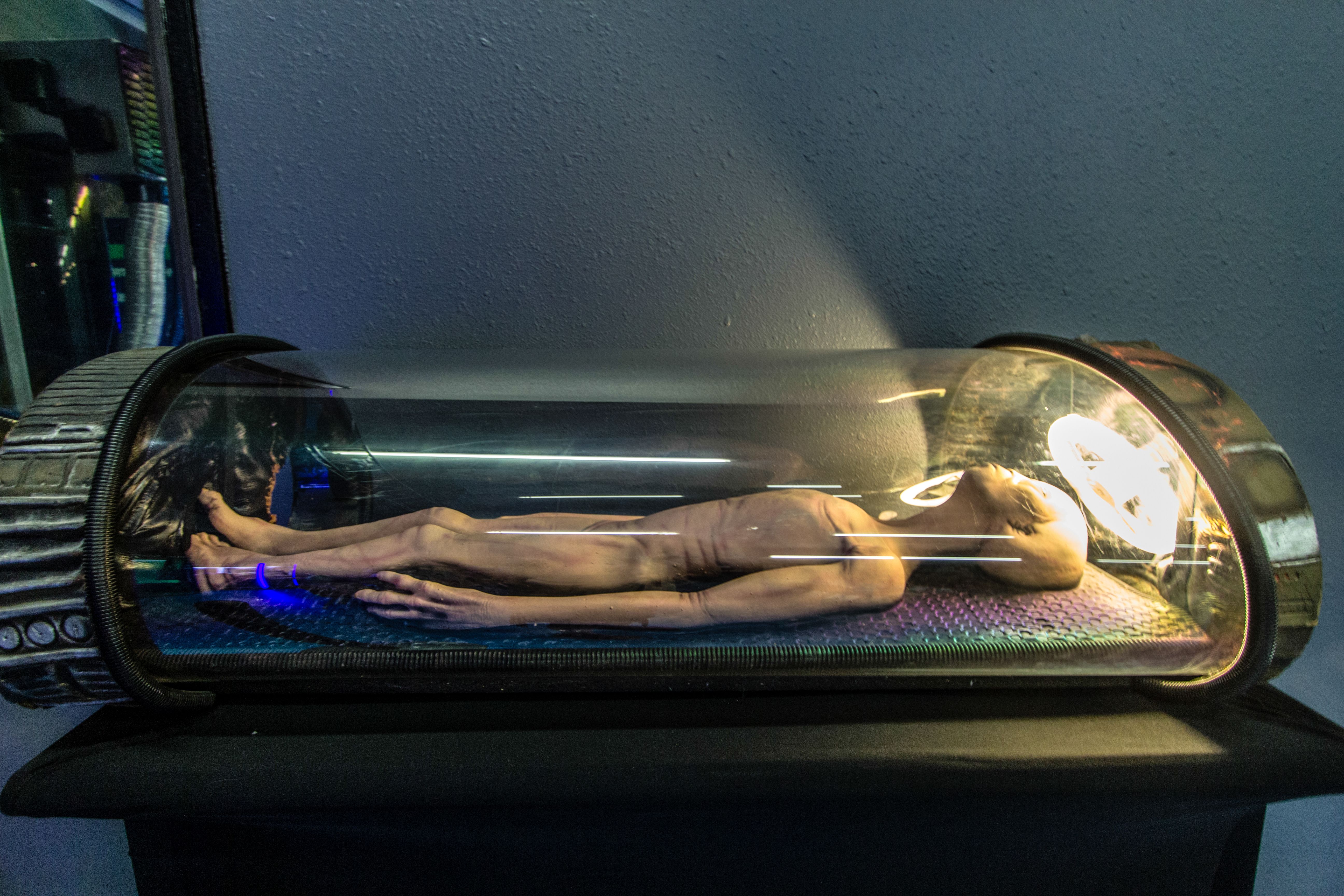 Alien in experiment laboratory, UFO Museum Roswell
Continue up Main Street and turn right onto E 2nd Street to the Roswell UFO Spacewalk and Gallery. Earthlings of all ages will be thrilled and spooked as they wander through a blacklight art adventure full of creepy extra-terrestrial creatures, alien jungles, and a spaceship heading to Roswell.
The walkthrough was created by artist Brian Ward whose Retro and Sci-Fi artwork line the walls. Space-themed merchandise is available to buy in the gift shop.
General admission is $5, military and children six and under $4, and babies and toddlers are free.
Pet friendly
Open Daily 10 am – 6 pm
Spaceport Roswell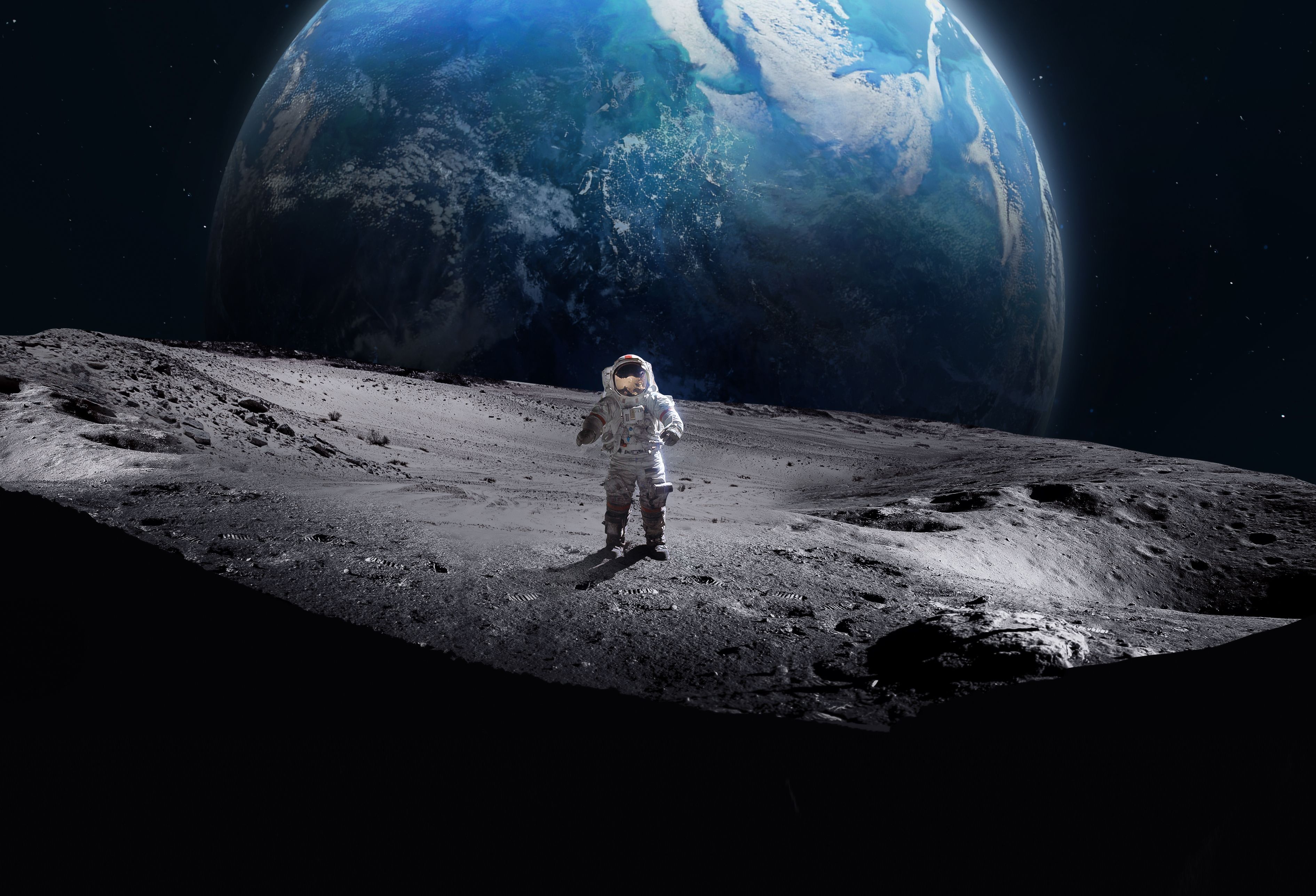 Astronaut on Moon
Cross the road and get ready to meet your starry-eyed flight attendants of Spaceport Roswell as they transport the traveler through space and time using the latest in time shift transporter technology.
Explorers will have the option of accompanying Armstrong, Aldrin, and Collins to the Moon on the Apollo 11 spacecraft, or the aliens who crashed to Earth that fateful day in July 1947. This incredible virtual reality experience must not be missed.
Adults $14.50, Veterans and Seniors $12.50, Children (4-12) $9.50
Monday – Thursday 9 am – 6 pm, Friday – Saturday 9 am – 7 pm, Sunday 10 am – 6 pm
Not advised for visitors under age 4
Alien Zone Area 51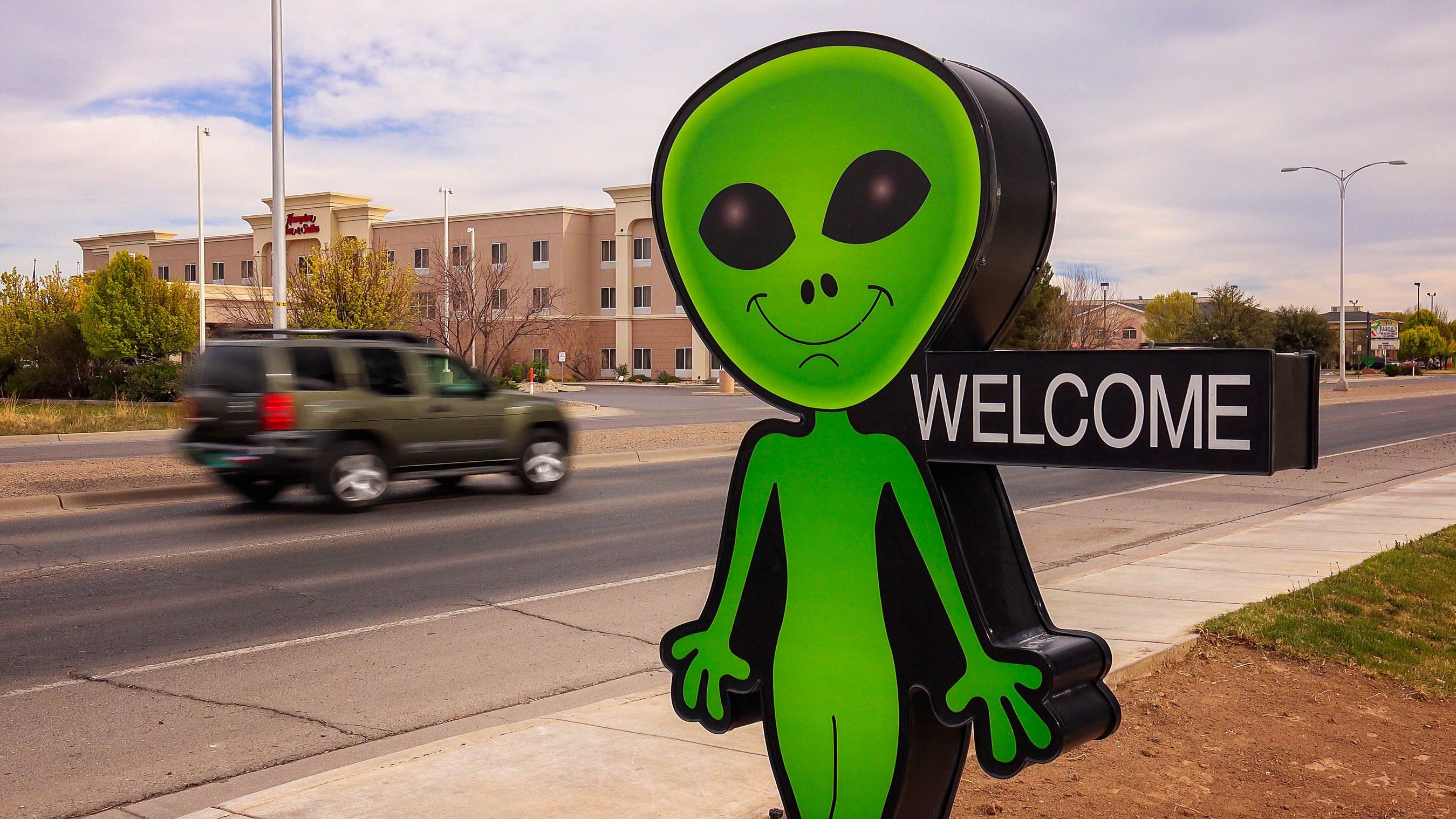 Welcome sign to Roswell
Exhausted from traveling so many lightyear miles, (and surviving a crash), a fun place to chill is at the Alien Zone Area 51 on S Main Street for some souvenir shopping of gifts and apparel.
Inside there are hilarious and well-made, yet rather surreal, photo ops with aliens and interactive props.
Related: 10 Things That Have Only Recently Come To Light About Area 51
Roswell Visitor Center
Walk up to N Main Street and pop into the Roswell Visitor Center for some advice on what to do if abducted by aliens. There's an opportunity for a free souvenir photo shoot with a couple of the more friendly aliens.
The center plans to expand soon with digital kiosks where visitors can learn about attractions they might want to visit.
Monday – Saturday 9 am – 5 pm Sunday 11 am – 4 pm
Roswell Museum and Art Center
Founded in 1935, the Roswell Museum and Art Center now boasts twelve galleries with exhibits on the early Modernists, the Taos and Santa Fe art colonies, Native American arts, WPA art, and Spanish colonial works.
Focusing on the history and traditions of the American Southwest, it continues to be the cultural and educational center of the community through its exhibitions, programs, and collections.
The museum also has an area dedicated to rocket scientist Dr. Robert Goddard and his work on liquid-propelled rockets and record-breaking launches.
See where he worked in a recreation of his rocket engine development workshop.
Walk around to the adjoining wing of the Roswell Museum for a visit to the 120-seat Robert H Goddard Planetarium.
Admission: Prices range from $7 (students, seniors, military members,and locals) to $10 (non-resident adults); Children (age 15 and under) are free
Combined groups of 10 or more with reservations: $8
Open Daily 10 am – 6 pm
Robert H. Goddard Planetarium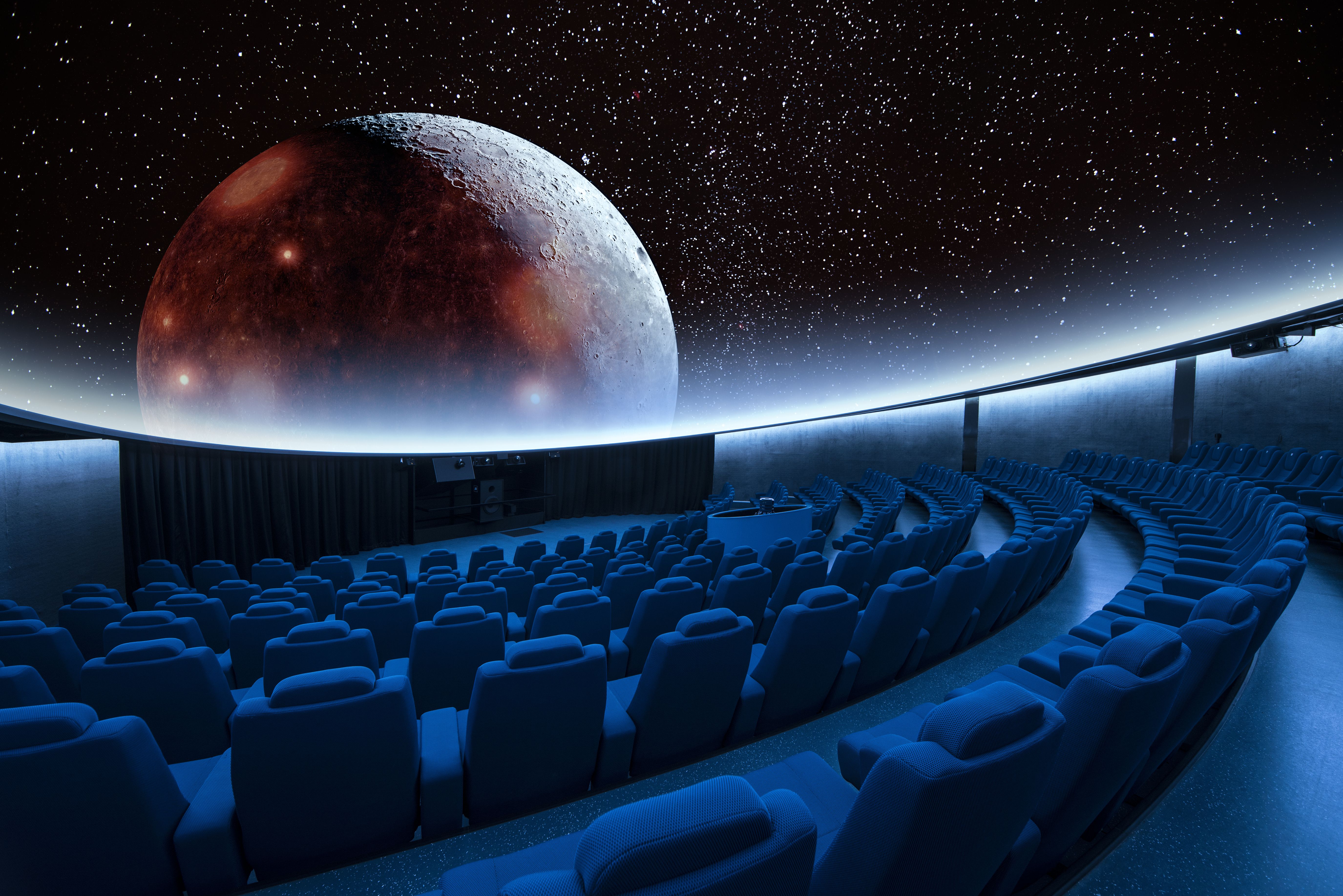 Image of the interior of a full-dome planetarium
Grab the popcorn and settle in for a full-dome film and star presentation at the Robert H. Goddard Planetarium. With state-of-the-art technology and Digistar 6 programming, be transported to our cosmic origins on a celestial journey across space and time.
Learn about solar phenomena, the Apollo 11 Mission, our solar system and so much more.
Programs last about 45 minutes.
For more information or to schedule a group, call 575-624-6744.
Admission: Adults (16+): $5, Children (3-15), locals, military personnel, and seniors: $3, Children (3 and under): Free
Discounts available for combined Museum and Planetarium tickets and groups
Anderson Museum of Contemporary Art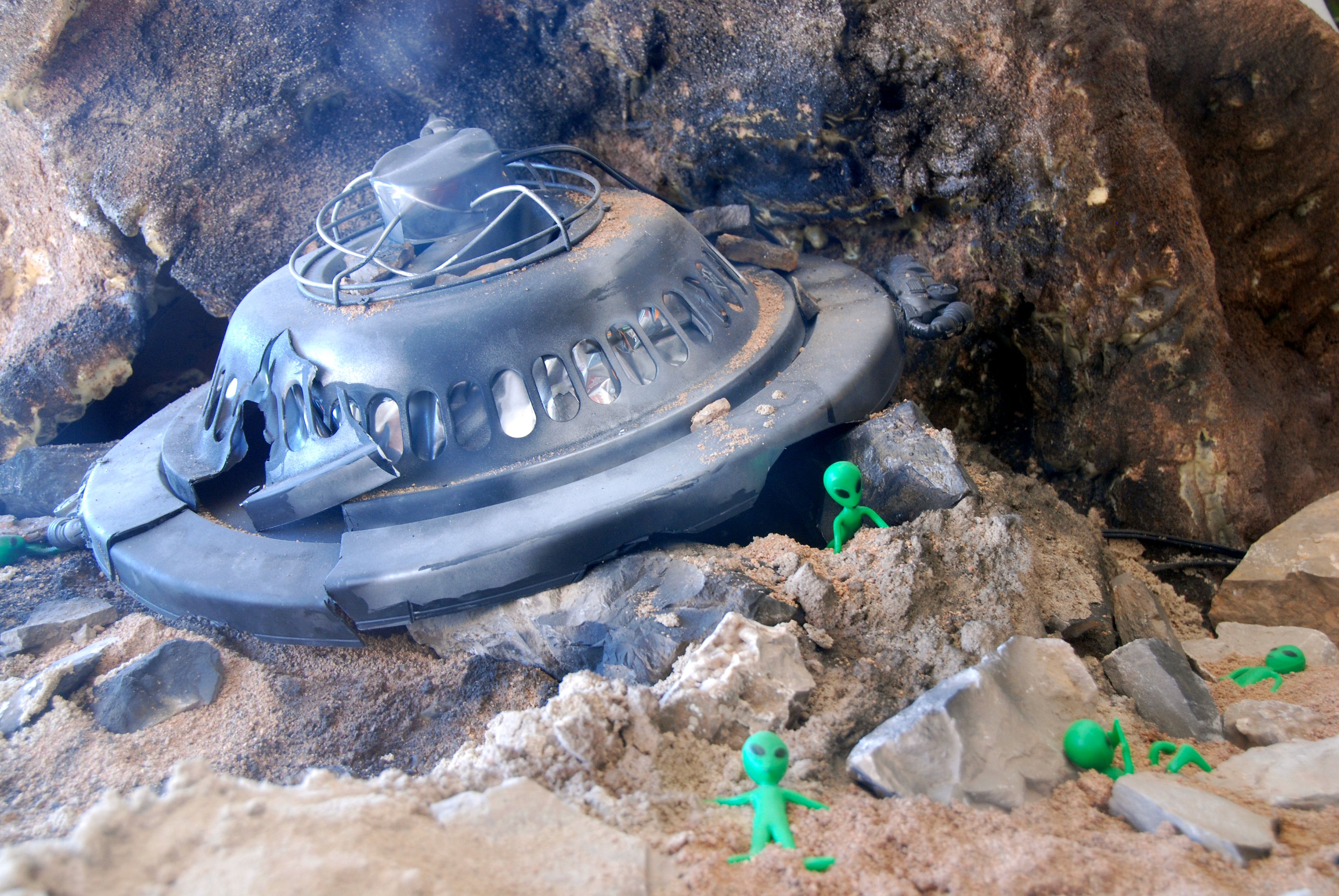 Alien figurines on display at UFO Museum, Roswell.
With the appetite whet for more cultural experiences, continue up N Main Street to E College Blvd for some contemporary art at the Anderson Museum of Contemporary Art, named one of the best art museums in New Mexico,
The museum is dedicated to the work created by artists who have participated in the Roswell Artist-in-Residence Program since 1967.
There are more than 500 works of art in this visually stunning 12-gallery museum that includes photography, paintings, prints, sculpture, and drawings produced over the last 45 years.
Free admission
Monday – Friday 9 am – 4 pm Saturday – Sunday 1 pm – 5 pm
Miniatures and Curious Collections Museum
For fans of all things mini or for those who just need a break from the alien iconography, the Miniature and Curious Collections Museum is an absolute must-see with its delightful collection of antique and vintage dollhouses, furniture, themed vignettes and a touch-screen video with miniature-related videos.
For those who wish for a hands-on experience, there are workshops and a children's play area with toys, doll houses, drawing supplies, picture books, and building toys such as Lego.
Open 10 a.m. – 4 p.m. Fridays and Saturdays
Admission is free (there is a donation box)
Historical Society For Southeast New Mexico
According to the Historical Society for Southwest New Mexico's website, its mission is, "To assemble, preserve and interpret the history of Southeast New Mexico and to promote a great interest, understanding and appreciation of the area's past."
This museum dating from 1912 was once the home of Mr. and Mrs. James Phelps White and is now home to hundreds of historical books and photos, manuscripts, maps, newspapers, and audio tapes that tell the story of Chaves County's past.
The community room is available for banquets, dinners, meetings, weddings, and receptions, or simply a great place for some photo opportunities.
Area 52 Tactical Laser Tag
Area 52 Tactical Laser Tag is a great place to practice combat skills with friends in indoor and outdoor state-of-the-art laser tag facilities
Call for more information regarding reservations and party packages.
Wednesday – Saturday 5 – 10 pm
Sunday 5 – 9 pm
Bitterlake National Wildlife Refuge
A 15-minute drive east of the city takes us to the Bitterlake National Wildlife Refuge located near the Pecos River.
This remarkable oasis is a migratory birding center that attracts hundreds of thousands of sandhill cranes, snow geese, ducks, herons, ibis, and dozens more species of birds as well as 59 species of mammals and 50 species of reptiles and amphibians — some of New Mexico's rarest and most unique desert wildlife.
The best time to visit the wetlands is during spring or fall, especially at dawn or dusk when there is the greatest congregation of birdlife, or in summer to enjoy the more than 100 species of dragonflies that come to lay their eggs in the water.
Hiking trails, biking paths, a scenic drive loop, bird blinds, and horseback riding provide a perfect escape. Come prepared to take many pictures!
Free to visit.
Check out their website for directions and visiting tips
Refuge open daily from one hour before sunrise and one hour after sunset
Related: New Mexico Really Is The 'Land Of Enchantment' And It's Easy To See Why
Bottomless Lakes State Park
A visit to Roswell wouldn't be complete without a trip down to the 7 unique sinkholes. A 20-minute drive south-east takes the adventure lovers to the Bottomless Lakes State Park – a perfect place to cool off with a variety of water sports such as swimming, fishing, scuba diving, paddleboarding, kayaking, and canoeing.
There's biking and hiking along trails surrounded by spectacular red cliffs and plenty of RV spots in the Lea Lake Campground with campsites and spots with water/electric hookups. Check the website for more information.
UFO Festival
As the UFO capital of the world, it just seems right to celebrate in Roswell with an annual UFO Festival. Summer is when UFO aficionados can orbit music performances, a 1947 reenactment tour, and museum events.
Earthlings can also participate in a costume contest, and UFO discussions, sample alien-themed food and drink and enjoy an evening light parade and carnival rides. It's a fun family-friendly experience for believers and deniers alike.
Shopping
There are so many great souvenir stores that outdo each other for variety and quirkiness up and down Main Street.
Invasion Station gift shop also has a wonderful mural of the 1947 incident.
Hangar 209, is the ultimate one-stop shop for shirts, hats, local beef jerky (abduction jerky — one never knows when it'll come in handy), conspiracy books, etc.
Golf courses
If golf is the terrestrial's idea of fun, then they won't be disappointed. There are several golf courses to explore in Roswell:
Itineraries
For a unique sightseeing experience, there are several Roswell UFO tours led by various groups in the area, which visit 20 sites linked to the Roswell UFO incident, like Building 84 at the Roswell Army Air Field, the site where many believe held the remains of the downed UFO and its small alien occupants.
Address: 114 N Main Street, Roswell, New Mexico
Related: As Of 2020, Experts Say This State Has Some Of The Most UFO Activity
Best Time To Visit Roswell
The ideal weather in Roswell is from mid-March to early June and mid-September to early November
The hottest months are June, July, and August with August temperatures averaging 100 F (37.8 C)
The least humid month is in April and the most humid is September.
The busiest months to visit are in June, May, and January. Hotels and flights are the most expensive during these times unless you book in advance. Spring is the second busiest time.
Tourists are less likely to visit Roswell in December, so it is the least expensive time to go.
Best Ways To Get Around Roswell
The best way to get to Roswell is to find a UFO that's going that way. If that's not possible, then the next best bet is to drive via the U.S. Routes 380 and 285.
Visitors can also get to Roswell by plane which will take them to (ROW) Airport, 6.1 miles away from Roswell. A taxi from Roswell Airport to Roswell about takes 11 minutes.
Greyhound Buses make regular trips to and from cities — check their website for more information.
Getting around the city center is easy with most attractions within walking distance.
The transit-service vehicles make their way up and down Main Street seven days a week.
Pay upon boarding with exact change, token, or pass.
Hired cars are available for those who wish to explore further afield.
Where To Stay In Roswell
For all those galactic travelers looking for a place to crash, Roswell offers a great selection of accommodations to suit all tastes and budgets.
2205 N Main Street, Roswell, New Mexico 88201-6458 United States
Central and close to downtown attractions
Complimentary full breakfast
Outdoor pool Open May through September
Free parking/truck/RV
Pet friendly
$$
4 Military Heights Drive Roswell, New Mexico 88201 United States
Outdoor pool
In-suite kitchen
On-site fitness center
Business Services
Laundry services
$$$
331 W Brasher Rd Roswell, NM 88203
All prices include full hookups, free Wi-Fi, free Direct TV.
Games room with billiards, ping pong, and DVDs
Swimming pool
Laundry room
Gym
BBQ grills and picnic tables
Dog parks
$
Where To Eat And Drink In Roswell
Welcome to Roswell cut-out sign
Roswell has perfected the art of combining eateries with roadside attractions. Be sure to visit the flying saucer McDonald's restaurant — the only one in the world — at night to see it lit up, and the Dunkin/Baskin-Robbins on Main Street for some early morning breakfast to see the giant muscular alien holding up their sign.
800 N Main St, Roswell, NM 88201
Open Daily from 5 am – 10 pm
110 W 4th Street, Roswell, NM 88201
New Mexican food blended with a fun, family-style atmosphere.
Offer great breakfast, lunch, and dinner specials throughout the week.
Full carry-out menu and catering services.
Monday-Saturday 6:00 am to 8:30 pm
301 N. Railroad Ave, Roswell, New Mexico 88201
Central Texas-style barbeque.
Specializing in low and slow-smoked brisket, fall-off-the-bone ribs, jalepeño sausage, tinder chicken, and juicy pulled pork.
All meats are smoked fresh daily.
Tuesday – Saturday 11:00 am – 8:00 pm. Sunday and Monday are closed.
412 West 2nd Street, Roswell, NM 88201
New Mexico products such as coffee, chilies, chocolates, nuts, and cheeses.
Wide variety and blends of wines and beers.
Tastings are available Monday through Saturday (10 am-8 pm) with cheese/fruit trays.
Tuesday-Thursday 11:00 am-8:00 pm, Friday-Saturday 11:00 am-9:00 pm Sunday-Monday CLOSED
Local live entertainment.
How To Spend A Perfect Day In Roswell, New Mexico
The city of Roswell has been created for the ultimate tourist experience. It's where history, folklore, kitsch, and quirky fun come together. With museums, a planetarium, galleries, indoor interactive thrills, entertaining shopping opportunities, outdoor adventures, and photo ops with bizarre roadside attractions, it's quirky fun for the whole family.
Related: 10 Historic Sites In New Mexico You Need To See
Start the day with a coffee and donut next to a giant green alien, debate the existence of extra-terrestrial life in the afternoon at the UFO Museum and Research Center, and finish the day staring at the star-lit sky at the Bottomless Lakes. For those seeking a little more culture, check out the Roswell Community Little Theater for performances or even join in the fun on improv night! And of course, there are so many places to visit within driving distance from Roswell.
However the day is spent, be sure to planet! Sorry…plan it.
FAQ
Q: What is the "Roswell Incident"?
The Roswell Incident refers to an alleged UFO crash on a ranch outside Roswell in 1947. Pieces of rubber and metal were found which the military first claimed had come from a weather balloon.
Ufologists and conspiracy theorists believe they are from an extra-terrestrial flying saucer and that the military has covered up the alien findings; Roswell encourages UFO hunting and similar conspiracy activities.
Q: Is 'Roswell New Mexico', the TV series, based on this city?
Yes, the series is a TV adaptation of the Roswell High book series by Melinda Metz; it is a fictional story based in Roswell, New Mexico, about a teenage girl who falls in love with an alien.
Q: How far is Roswell from the Mexican border?
The total driving distance from Roswell, New Mexico to Ciudad Juarez in Mexico is 207 miles (333 kilometers). There are also many US cities worth exploring in New Mexico.