What happened today in history (20 January): The birth of Buzz Aldrin and David Lynch, the death of Audrey Hepburn and King George V, Barack Obama sworn in as US President, Breaking Bad premiered on AMC, and more.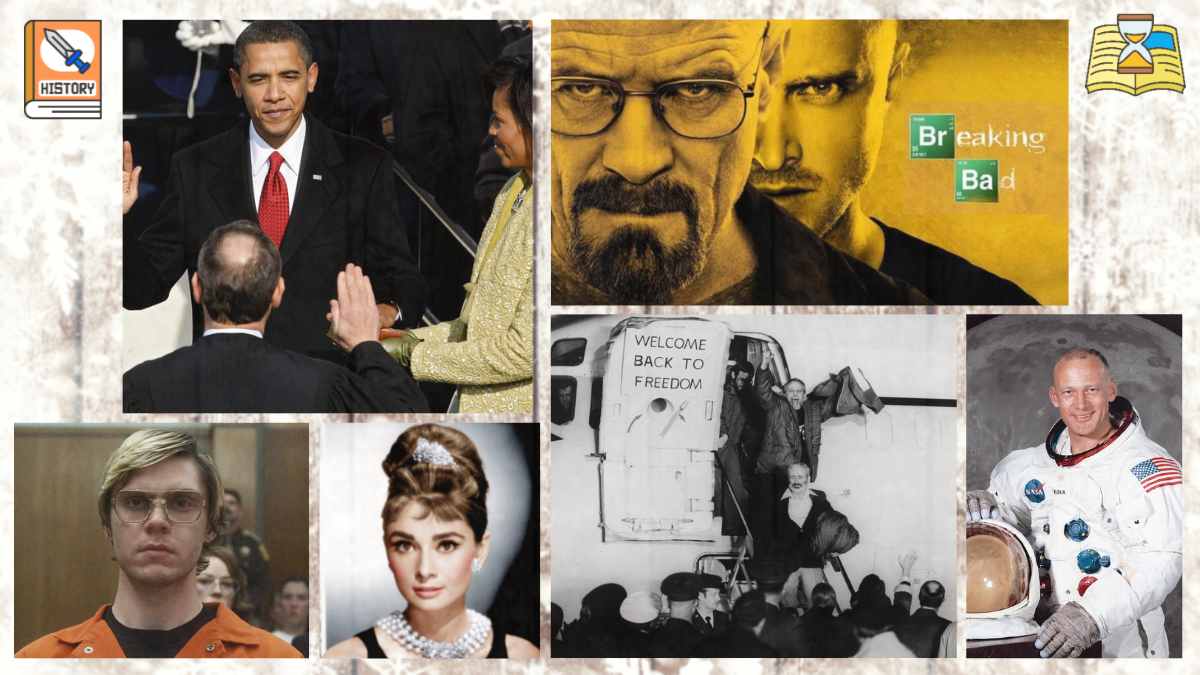 This day in history (20 Jan): Barack Obama became the president of the United States
Today in History, 20 January: More than half the month has passed by in a flash, and it still feels like 2023 just arrived yesterday. Life moves fast. Time leaves everyone behind, but knowledge stays with you forever. On that note, let's take a look at the historical significance of the first month of the year.
Today is 20 January, another seemingly ordinary winter day. However, 20th January holds an important place in world history.
Keep reading to find out what major events happened on this day (Jan. 20) in sports, politics and art, along with famous birthdays and deaths in world history.
Historical Events On This Day
In 1949, FBI director J. Edgar Hoover gifted actress Shirley Temple a tear gas fountain pen to defend herself.
In 1981, the Iran Hostage Crisis ended with the release of the 52 Americans by Ayatollah Ruhollah Khomeini, who had been held hostage for 15 months.
In 2006, NASA launched the New Horizon spacecraft to gather more information about the dwarf planet Pluto.
In 2022, 19-year-old aviator Zara Rutherford became the youngest woman to fly solo around the world.
US Presidents Inauguration Day
In 1945, Franklin D. Roosevelt was sworn in for a record 4th term as US President.
In 1981, Hollywood actor-turned-politician Ronald Reagan was sworn in as the 40th President of the United States of America.
In 2009, Barack Obama was sworn in as the 44th President of the United States, becoming the first African American to lead the nation.
In 2017, controversial American politician Donald Trump was sworn in as the 45th US president after an unexpected victory over Hillary Clinton.
In 2021, Kamala Harris became the first female vice president of the US.
Sports Events Today
In 1892, the world's first official basketball game was played by YMCS students of the game's inventor, James Naismith.
In 1980, the US president announced the boycott of the Moscow Olympics to protest the Soviet Union's invasion of Afghanistan.
Art and Culture Events Today
In 1982, British rock star and frontman of the heavy metal band Black Sabbath, Ozzy Osbourne, reportedly bit the head of a bat live on stage in Iowa.
In 2008, Vince Gilligan's Breaking Bad, one of the greatest television series of all time, premiered on AMC and starred Bryan Cranston as a teacher-turned-meth dealer with Aaron Paul as his protege.
In 2010, Indian cinematographer V.K. Murthy received the prestigious Dadasaheb Phalke Award, becoming the first cinematographer to win the award.
In 2015, the acclaimed musical "Hamilton," starring Lin-Manuel Miranda and Anthony Ramos, premiered at The Public Theater in Lower Manhattan, New York.
Notable Deaths On This Day
| | | |
| --- | --- | --- |
| Sr No | Death Year | Personality |
| 1 | 1936 | George V, king of the United Kingdom from 1910 to 1936 |
| 2 | 1988 | Abdul Ghaffar Khan, Pakistani Pashtun leader and independence activist who was inspired by Mahatma Gandhi's teachings of non-violence |
| 3 | 1993 | Audrey Hepburn, Belgian-British actress known for her elegant beauty and starring in the films Breakfast at Tiffany's and Roman Holiday |
| 4 | 2012 | Etta James, American rhythm and blues singer known for her versatility and genre hopping music in such songs as"At Last" and "I'd Rather Go Blind" |
| 5 | 2022 | Meat Loaf, American rock star and actor who is one of the best-selling artists ever |
Famous Birthdays On This Day
| | | |
| --- | --- | --- |
| Sr No | Birth Year | Personality |
| 1 | 1883 | Nucky Johnson, American politician and crime leader who was active in the early 20th century in New Jersey and inspired the television series Boardwalk Empire |
| 2 | 1896 | George Burns, American actor and comedian |
| 3 | 1920 | Frederico Fellini, Italian filmmaker who is considered one of the most influential filmmakers of all time and is known for making the films La Dolce Vita and 8½ |
| 4 | 1930 | Buzz Aldrin, American astronaut and the second person after Neil Armstrong to set foot on the Moon. |
| 5 | 1946 | David Lynch, American filmmaker known for his mind-bending and surrealistic films and tv shows like Mulholland Drive, Twin Peaks and Eraserhead |
| 6 | 1956 | Bill Maher, American comedian and talk-show host known for his political commentary |
| 7 | 1987 | Evan Peters, American actor known for starring in the tv series American Horror Story, X-Men: Days of Future Past and Netflix's Dahmer |
Related | Today in History (19 January)
Related | Today in History (18 January)