The annual Doe Show at Ernest Doe & Sons Ltd in Ulting, Essex, is set to take place during the first full week of February with a completely new look as the dealer celebrates 125 years of trading. 
Now in its 63rd year, the 2023 event will run over the course of three days from 7–9th February. As usual, it will feature stands representing all machinery and equipment franchises held by a network of 19 Ernest Doe and Ernest Doe Power depots. In addition, there will be exclusive special offers available for orders placed at the event.
New layout
This year's show will also feature a completely new layout. "After an online-only event in 2021 due to Covid-19 restrictions, and a more open but still restricted event last year, we are pleased to be planning the 2023 Doe Show to provide the best possible experience for our visitors," said Ernest Doe sales director Graham Parker.
"There will be more weather protection and covered stands will have extra heating. We will also have large numbers of tea and coffee pods around the site, with hot soup available too."
Leading agricultural brands
Agricultural machinery displays at the show will feature the latest Case IH Puma 260CVX, as well as the New Holland T7.300. Both tractors were announced last autumn at European shows and will be available to order at the event with delivery later this year.
Moreover, the DSX No-Till seed drill from the new Horizon Agriculture franchise will feature prominently at the show. The drill was selected for its ability to successfully establish crops into undisturbed or pre-cultivated ground – satisfying customer demand for a machine which can work in a wide range of conditions.
Build slots have also been reserved at the show by major brands including Lemken, Marshall Trailers, Dal-Bo and Shelbourne Reynolds, ensuring customer orders are processed without delay.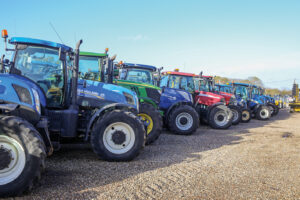 Precision farming
The Tech Zone will be back at this year's Doe Show with the latest innovations in precision farming technology including GPS guidance, automatic machine control and telemetry. Manufacturer and dealer specialists will be on-hand to explain features, benefits and capabilities.
Ground care displays
The new under-cover ground care zone, which featured last year, will also return with even more working demonstrations. Stihl will be in attendance with its tour bus, and the Husqvarna Ceora robot mower will be in action for visitors to see.
Moreover, the new HR380 out-front rotary mower from Ransomes is expected to generate many enquiries from large-scale and professional users, along with the Mean Green Evo and Rival commercial battery-powered ride-on mowers which operate for up to eight hours between charges.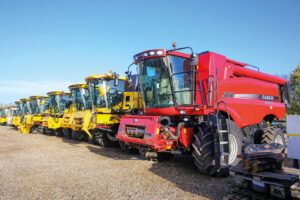 Bigger construction zone
The popular construction zone has been given greater prominence this year due to the increasing number of visitors from the construction industry attending recent events, Graham said, adding the new layout will put brands in the spotlight.
"We took a lot of orders for diggers and dumpers last year at the event and expect new Hyundai HXA-series mini excavators from 1.0–8.5t to be a big attraction when they are shown in public for the first time (…). They offer increased fuel efficiency plus a more comfortable working environment – including air conditioning as standard on cabbed machines."
Doe Show visitors will also be the first in the UK to see the new battery-powered, three-tonne Thwaites dumper model, which is due to enter production later this year. In addition, a large selection of Bomag compaction equipment will be on show, from hand-held tools to tandem-axle rollers as well as the latest autonomous models including the BMP8500 which is designed for operation in trenches.
Other brands to feature at the construction zone include Epiroc breakers as well as Atlas Copco compressors and lighting systems.
New Fruit and Viticulture display
A designated Fruit and Viticulture display area will feature for the first time at the 2023 Doe Show, offering a newly assembled list of quality franchises and support from an experienced team.
Alongside narrow fruit and vineyard models from the New Holland T4 and Case IH Quantum tractor ranges, a New Holland Braud grape harvester will be on show. New franchises include Ideal fruit and vineyard sprayers; Dondi – which manufactures inter-vine mechanical weeders, tine and disc cultivators, and low-disturbance subsoilers; as well as several others.
Long-established agricultural machinery suppliers Teagle and KRM also manufacture special narrow versions of some products for orchard and vineyard work, which will be on show in the new display area.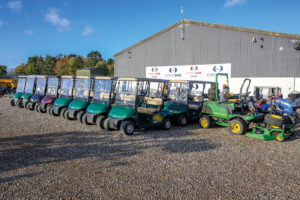 Buy used on the day
The Doe Show is famous for the huge array of clearance, ex-display, ex-hire, ex-demonstration and second-hand machinery on offer – all brought to Ulting for the event from the dealer's other depots. Contrary to the 2021 and 2022 events, there will be no auction this year, with everything available to view and buy on the day.
Tools and workshop equipment
The indoor display of workshop equipment, tools and farm sundries has always been popular at the event, and many items can be purchased at reduced prices during the three days. Milwaukee tools were added to the brands available from the dealer last year, and a large selection will be on show.
The country clothing display also returns this year, including a huge selection of clearance items at significantly reduced prices.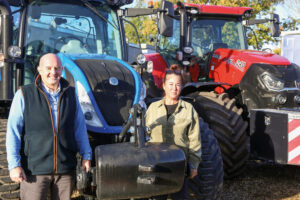 Vintage in action
Popular attractions such as the vintage ploughing and cultivating demonstrations will feature as usual, including several Doe Triple-D tractors working only a short distance from where they were built.
Enjoyable event
"We are looking forward to marking 125 years of Ernest Doe & Sons trading, and the Doe Show will provide a fitting start to the celebrations," confirmed Graham.
"We know that those involved in the industry like to meet with our teams and agree deals, and the 2023 Doe Show will provide the ideal opportunity. Whether customers are looking for new or used agricultural, construction or specialist equipment, it will be well worth attending this enjoyable event."