National Assembly (NA) Speaker Moses Wetangula promised on Tuesday, January 17, to contact his predecessor Justin Muturi about a plan to change the constitution.
Wetangula noted that there was a need to amend the constitution to accommodate the East African Legislative Assembly (EALA) Kenyan members in the Parliamentary Service Commission (PSC).
The amendment also ensures that EALA MPs receive benefits enjoyed by their counterparts in the National Assembly.
NA President Moses Wetangula poses for a photo with Kenyan EALA members at the Parliament House on January 17, 2023.
Twitter
Moses Wetangula
"I hosted the newly elected Kenyan EALA members where we discussed a range of issues.
"I promised the members to bring in Attorney General Justin Muturi to deliberate on a constitutional amendment to include them in PSC," said Wetangula.
As members of the PSC, EALA members can deliberate on issues affecting both the Kenyan parliament and constitutional offices.
The Kenyan EALA MPs will provide services and facilities to ensure that the parliament functions efficiently and effectively.
They will also participate forming offices in the parliamentary service and appointing and supervising office holders.
Apart from being part of the powerful PSC, the EALA MPs also sought Wetangula benefits enjoyed by Senators and MPs.
They asked for fully funded offices in Nairobi, a car mortgage and travel allowance.
After meeting with Wetangula, EALA MP Suleiman Shahbal was optimistic that the issues raised by them would be resolved.
"We discussed, among other things, the need to lead the unity of the East African region and focus on policies that will improve our regional trade relations," an optimistic Shahbal said after the meeting.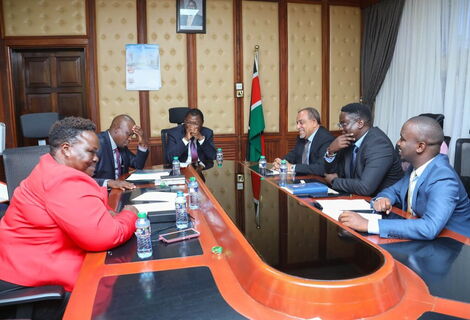 NA President Moses Wetangula meets Kenyan EALA members at the Parliament House on January 17, 2023
Twitter
Moses Wetangula